Hey, I'm still on a break, but thanks to post scheduling, I've still got something for you…from me. And a colleague…
It's…the episode I did with Daniel Franco a few months ago on his Creating Synergy podcast. Along with the wonderful Michelle Holland, he's a Director of SynergyIQ where I'm based in Adelaide, South Australia.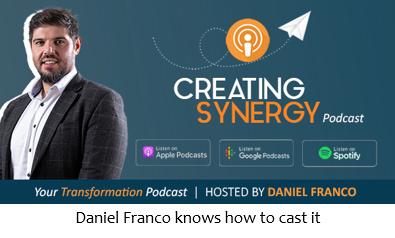 We covered a range of stuff on why organisations do and don't work, and I had a great time talking to Daniel who totally knows what he's doing to get a guest talking away and enjoying themselves.
If you're reading this on your phone, depending on your preferred method:
Click here for Spotify Podcast
…or type "creating synergy adam" into your Search box.
I'm sure you won't find it as weird to listen to as I always do when I hear myself!