Prefer to watch the video?  Just click here.  4 minutes, with captions.
Your people want more communication. I know this because your latest staff survey had this as the second-biggest issue behind cross-functional work.
You want more buy-in and commitment. You also want more accountability or ownership taken, and you want your team, your division, your organisation to be more adaptable, responsible, or dare I say it….that 'a' word.
The good news is there's a simple step you can put in place that lays the foundation for this (not the panacea…but the foundation)
Be networked they cry!
If you've been alive and in organisations this century, you're tired of being told that you need to go from this: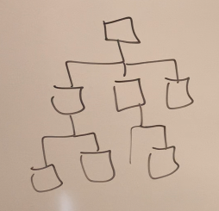 Read more…