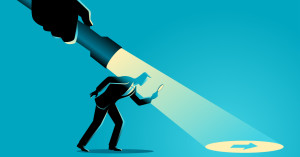 Ethan was ready to start making life better for his people by sorting out how their roles fit together across the organisation. I suggested he start with the role of Quality Engineer. He reached for the phone.
"Don't do that" I jumped in. Ethan looked surprised. I continued; "it's not up to your Quality Engineer to decide the work system, it's up to you. We're going to get her input for sure, but first, tell me what you are ultimately holding her accountable for".
Ethan didn't answer.
"We've found our starting point."
"OK…." Ethan said. I needed to explain;
"Work occurs because someone gets someone else to start doing something, wait before doing something, or stop doing something."
"Sounds reasonable".
"And why do they do this…why does it happen?" I asked.
"Because…it's their job?" Ethan ventured
"Yep. Or to get right to the bottom of it, they feel they are accountable for a particular thing happening or not happening, so to make sure they can do what they believe they are accountable for, they go and talk to someone else". Read more…